ST-2040 PCM Analyzer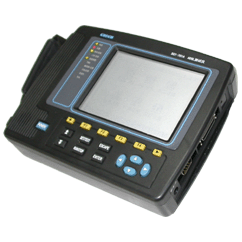 ST-2040 PCM Analyzer
I. Features ¡¤Portable design; ¡¤Built-in test template, and pattern display; ¡¤Built-in direct current loop feed circuit and direct current loop hold circuit; ¡¤Human engineering design, intelligent English operation interface; ¡¤Large-screen LCD display, 320¡Á240 latt
Specifications:
ST-2040 PCM Channel Analyzer


I. Features

¡¤Portable design;

¡¤Built-in test template, and pattern display;

¡¤Built-in direct current loop feed circuit and direct current loop hold circuit;

¡¤Human engineering design, intelligent English operation interface;

¡¤Large-screen LCD display, 320¡Á240 lattice, EL backlight;

¡¤With high-speed miniprinter and external printer interface.

II. Functions

¡¤English menu, large screen display and simple operation;

¡¤Multi-task operation (test and browse former records simultaneously)

¡¤Test level, Variation of gain with frequency, Variation of gain with input level, quantizing distortion, Idle channel noise, crosstalk, Return loss and balance to ground;

¡¤End to end and loop-back test;

¡¤Single-channel or 30 channels automatic test, and print it as report form.

¡¤Full-automatic mode, manual mode, full-automatic mode could select one item, several items or all of measurement indexes, and the test step length could be programmable;

¡¤It could store over 60 groups of measurement results; the test setup memory could be up to 9; it could also operate non-volatile memory;

¡¤Built-in generator and receiver, the output interface and input interface are respectively with direct current loop feed circuit and direct current loop hole circuit, not only it could measure E&M 2/4 line interface, but also it could measure LGE¡¢FXO£¬LGS¡¢FXS interface;

¡¤Test result pattern display, compare with built-in ITU-T rec;

¡¤Measurement result could upload to PC, and take it for analysis, filing and printing;

¡¤Online updating for embedded software.


III. Technical parameters
3.1 Generator
| | |
| --- | --- |
| Signal frequency | 200Hz¡«3600Hz£¬step: 10Hz |
| Output level | +6¡«-61dBm0£¬step: 1dB |
| Relative level | +1¡«-17dB£¬step: 0.1dB |
| Distortion degree | 1020Hz/0dBm0£¬<-55dB |
| Frequency response | ¡À0.1dB |
| Output impedance and return loss | 600¦¸ within 200¡«3600HZ, return loss¡Ý30dB |
| Output balance | degree of balance ¡Ý60dB within 200¡«3600Hz |

3.2 Receiver
Level
Frequency
200Hz¡«3600Hz
Level range
+13dB¡«-78dB£¬in which dBm0:+6¡«-61dB,
dBr: +7¡«-17dB
Measurement error
0dBm0 is ¡À0.2dB£¬others are ¡À0.3dB
Signal
1020Hz/0dBm0
Frequency response
Signal
1020Hz/-10dBm0
Frequency range
200Hz¡«3600Hz
Measurement range
-20dB¡«+20dB
Measurement error
¡À0.2dB
Variation of gain with input level
Signal
1020Hz/-10dBm0
Level range
+6dBm0¡«-61dBm0
Measurement range
--20dB¡«+20dB
Measurement error
¡À0.2dB
Idle channel noise
Assistant signal
420Hz/- 45dBm0
Measurement range
-92dBm0¡«-22dBm0, ITU-T weighted
Measurement error
¡À0.5dB
Crosstalk
Main cross signal
1020Hz/0dBm0
Measurement range
-92dBm0¡«-22dBm0
Error range
¡À1 dBm0
Quantizing distortion
Reference frequency
820Hz
Level range
+6dBm0¡«-61dBm0
Measurement range
0¡«-40dB£¬ITU-T weighted
Measurement error
¡À0.8dB
Return loss
Signal frequency range
200Hz~3600Hz£¬level: 0dBm0
Measurement range
0dB~62dB
Measurement error
¡À1dB
Degree of balance to ground
Signal frequency range
200Hz~3600Hz£¬level: 0dBm0
Measurement range
0dB~82dB
Measurement error
¡À1dB
Input impedance and return loss
input impedance is 600¦¸ within 200¡«3600HZ, and return loss ¡Ý30dB
Input balance
degree of balance ¡Ý60 dB within 200¡«3600Hz
Interface balance
600¦¸£¬200¦¸+560¦¸//0.1UF ; 200¦¸+680¦¸//0.1UF£»
Relative level
-17¡«+7dB£¬step: 0.1dB
Direct current loop
IGT dynamic impedance >100K¦¸, maximum loop current is 60mA, and loop voltage drop is -15V;
OGT dynamic impedance >100K¦¸, and constant current of feed circuit is 25mA
Power supply
(1)With special power adapter
INPUT:AC220V 50Hz
OUTPUT:DC 9V 1A
(2) Internal rechargeable battery
4000mAh 6V Ni-MH rechargeable battery
Working time: 6 hours
Charge: 6 hours at turn-off; 10 hours at turn-on;
Printer
¦ÌP40-TS(CH) Standard serial Chinese/English mini-printer£¨Optional£©
Dimensions
L¡ÁW¡ÁH=200¡Á160¡Á42mm
Weight
about 1kg
Operation temperature
0¡«40¡æ
Storage temperature
-20¡«+70¡æ
Humidity
5%¡«90% non-condensing
4. Packing List
No.

Item

QTY

1

ST-2040 PCM Channel Analyzer

1 PC

Documents
2
Users manual
1 PC
3
Software disc
1 PC
4
Certificate/Warranty
1 PC
5
Packing list
1 PC
Attached accessories
6
Connecting line with three pole
2 PCS
7
RS232 serial communication line
1 PC
8
Adapter
1 PC
9
Handy-case
1 PC
10
Mini printer (optional)
1 PC
11
External printer interface (optional)
1 PC